Music is one of the ways that our congregation is blessed. Many of our members lend their voices and talents to our Adult Choir and Bell Choir, or as part of small instrumental groups, to help move and inspire the Spirit within each of us.
All are welcome to visit any of our worship services and experience the amazing music performed by our spiritual community.
Questions about our music program?  Email the Music Director here.
CCH Instrumental Database
Do you play an instrument and want to be involved by playing throughout the year? Fill out the following form to enter your name into our church database of musicians. CCH has many talented musicians, and I want to have a database for use throughout the year.
CCH Choir & Bell Choir Absence Form
We understand that everyone leads busy lives and may need to miss rehearsal and/or a Sunday service! That is absolutely no problem, but it is extremely helpful if we know ahead of time, so we can plan the anthem and rehearsal accordingly. For example, if we have a Sunday where half the choir will be missing, this would be a great Sunday to add in some special music!
CLICK HERE TO FILL OUT THE CCH CHOIR & BELL CHOIR ABSENCE FORM
Adult Choir
From all walks of life, members of the Congregational Church of Huntington Adult Choir meet twice a week to join their creative spirits in praise. This 20 person choir, led by our Music Director, performs a wide variety of repertoire in many different styles. With the collaboration between the choir and the many talents of CCH's uniquely musical congregation, each week is a new musical journey. The choir meets at 7:30pm on Thursdays for rehearsals – drop on by and sing "Hi!"
Bell Choir
Our English Handbell choir produces uniquely beautiful music with a set of 3 octave bells and hand chimes. Led by our Music Director, the bell choir performs once a month at our church service and on special occasions at other religious ceremonies and venues. Presently, the choir is composed of 11 ringers. Rehearsal is held once a week on Thursday evenings at 6:00pm.
Music Selections
Click the icon at the top right of the video and select an option from the YouTube playlist.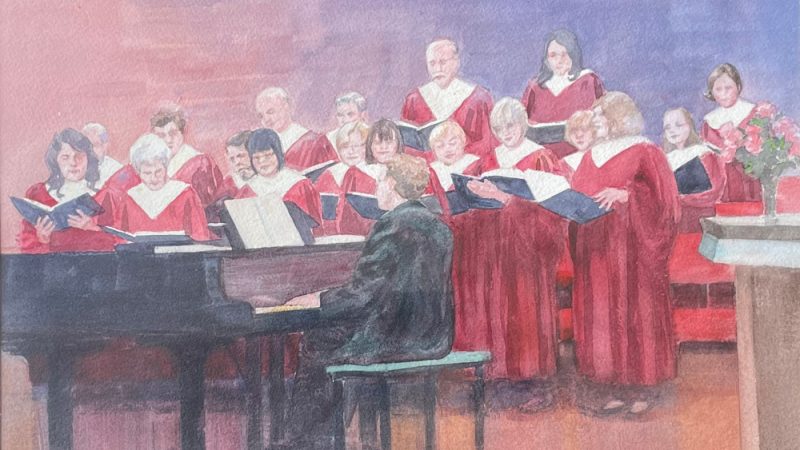 Watercolor painting by Mary Webb