The church building consists of the sanctuary, fellowship hall, offices, meeting rooms, and classrooms on approximately five acres of wooded property in Centerport. The grounds include a large fenced-in playground and meditative memorial garden for the internment of cremated remains.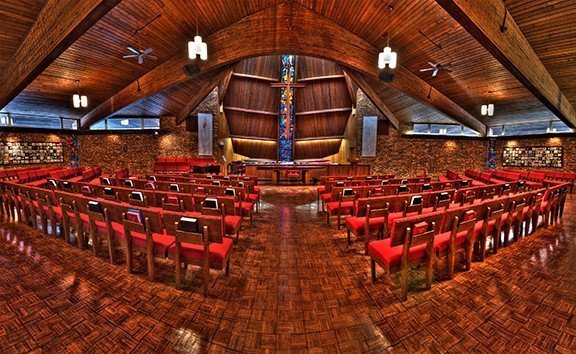 CHURCH SANCTUARY
---
The sanctuary wing, with our striking contemporary worship space, was completed in 1965. The congregation wished to worship in a building that reflected their theology. Thus all worshippers and leaders sit together on the same level, and the sanctuary design balances the horizontal expression of God's reach with a strong vertical element that reminds us of the traditional view of the heavens. The sloping copper roof can be seen as hands folded in prayer, but the abstract design is intended to stir the imagination of each visitor.
All the furnishings in the sanctuary are movable so as to accommodate different seating plans for worship as well as music, dance, and theatre performances. Another design element is the extensive open wall space around the sanctuary that is designed with track lighting to accommodate art installations. The sanctuary seats 160 in its customary configuration, but can be expanded to 225 with temporary seating added.
FELLOWSHIP HALL
---
Fellowship Hall, completed in 1959, was the original multi-use room at the church and also served as the sanctuary until the second wing was completed. The light-filled room, with two walls of glass that look out onto the wooded property, has served many functions as a playroom for the nursery school, a reception hall for weddings and funerals, a classroom for our Sunday school, and a concert hall for folk music and high school rock band concerts.
The hall and the adjacent kitchen were equipped with a restaurant-grade stove/oven, which we used over the years for church functions as well as community outreach food programs.  Yet, it is undeniable that over time, the physical structure of Fellowship Hall has deteriorated.  Our church kitchen no longer meets ever-evolving New York State Public Health Code requirements for a commercial kitchen, and consequently we had to move all food prep for outreach programs to partnering organizations.
Soon, with a major renovation planned, "Fellowship Hall" will become the "Community Life Center."  Read about the plans HERE, and learn how you can help see this dream become reality!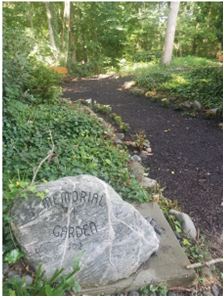 MEMORIAL GARDEN
---
The memorial garden is quiet place for church members and their families to bury the cremated remains of loved ones. Located in the woods at the rear of the building, the garden is designed to be a natural setting in which a visitor would be able to sit and reflect. The garden does not have markers—a plaque in the church lists the names of those buried in the memorial garden. The garden is open to the public for prayer and meditation.